Page 21
---

I got off the plane when it landed at Kunming, China and turned in at the hospital.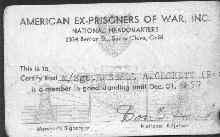 By this time other POWs were arriving so they were beginning to fly the men back to the states. I left China and was flown to New York. My prison camp days were finally behind me.
I had survived.
---
After a few weeks under observation in the Halloran General Hospital in Staten Island, New York, Russ was sent home on leave to Neodesha.
Only twenty-five men from Russ' squadron of about 250 men lived through the prison camp.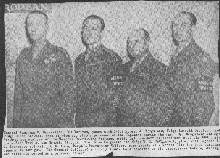 Russ always carried with him the nightmares, scars and effects of malnutrition and hard labor.
It takes a lot to survive as a prisoner of war because you're treated lower than whale manure on the bottom of the ocean floor. There was no justice. You could be beaten for violating any rule or regulation.
As I wrote this story, I realized how Russ survived. First he came from a strong pioneer family who were survivors. He used his intelligence, his patience and his compassion. He also went into the prison camp in as good of condition as possible, even though he fought and starved for four months.
Russ was not a smoker and drank in moderation and he knew you had to have food to live so he constantly sought food. He knew how to prepare food, which was a great help. Russ recognized the enemy had the upper hand and did not antagonize them, if possible. He stood up for himself but was never arrogant. Russ was no coward. I never saw anyone so unafraid, but he was not foolhardy and never abrasive.
Russ knew how to make the best of a bad situation. He never dwelt on the morbid. When he told me his story, he passed over the worse parts and tried to remember the better times. He wanted to survive and with luck, determination and courage on his part, he made it. That is how he survived all his life. He was truly remarkable.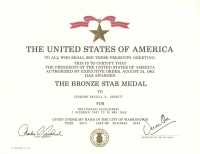 ---